Timely communication, with a more convenient and direct manner, can help you easily find the clients, post and manage the business information. You can grasp the business opportunity and negotiate the business anytime!


It needs no mail, MSN, etc. You can easily communicate by IM seekic to protect the individual privacy.


You can talk with several suppliers, thus the purchasing time can be saved and the quality can be improved.


The IM seekic only opens to the excellent suppliers. The purchasers can know the truth of the information and view the blacklist by the online customer service to improve the purchasing safety.


The customer service of IM seekic are on-line for 24 hours, and they can answer the questions of purchaser at anytime, and make the clients know about the Escrow service and so on.



Make more friends
Many merchants and purchasers are gathering here, so it is convenient to talk to them.
Business Communication
(1)Instant Communication
You can send textual message once you find the business opportunity that you are interested and discuss the business online! The customer clients are on line for twenty-four hours to solve all your problems.

(2)Off-line Message
You will never miss an inquiry or related message, although you are not on line. You can receive the off-line message as long as you are on line, which helps you to grasp every business opportunity.
Most Cool Expression
There are thirty-six dynamic expressions for you to choose in the process of business communication. With these expressions, the distance between two parties will be closer, and the business communication will be easier and more kind.
Chart Log
Preserve the chart log which can be checked whenever you need.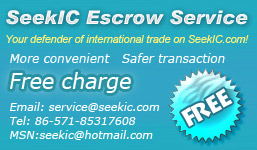 Supplier Information
The supplier information such as the points and ranks will show on the right side of the dialog box. And the purchaser can visit the shop directly, which is convenient and efficient.

Specified Product
When you start chat on our product page, the detailed information of the product you are interested will appear on the chat screen.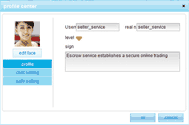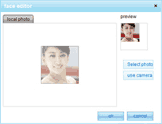 Basic Information
Avatar: local pictures and screen shots are available
Real Name: Revisable
Status: Editable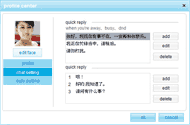 Response
Auto response: auto response when offline and reply message editable
Quick answer: fast edit reply message to improve efficiency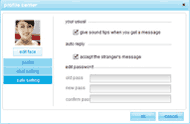 Security
Message prompt: voice and silence are optional
Message reception: reception and rejection for message from strangers are both available to avoid malicious disturbance
Password: set password to secure account