Quantity: 1
Manufacturer: Aven Tools
Series: Technik
Tool Type: Precision/Hobby Knife
Features: Lighted Handle with 3 Blades, #11, #22, #18
Features:
1. High precision voltage detection Vs±2% max.
2. Ultra-low current consumption ICCH=2µA typ. ICCL=3µA typ.
3. Low operating limit voltage 0.65V typ.
4. Hysteresis voltage provided in detection voltage 50mV typ.
5. Output current high for ON 30mA typ.
6. Detection voltage can be selected as desired within a range of 1.9V~4.6V
in 0.1V steps, as indicated below.
PST70XX Detection voltage value (Example: for 4.6V ....... PST7046)
Application
1. Reset circuits in microcomputers, CPUs and MPUs.
2. Logic circuit reset circuits.
3. Battery voltage check circuits.
4. Back-up power supply switching circuits.
5. Level detection circuits.
Pinout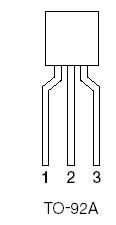 Specifications
Symbol

Item

RATINGS

Unit

TSTG

Storage temperature

-40~+125


°C

TOPR

Operating temperature

-30~+85

°C

VDDmax.

Power supply voltage

+12

V

VOUT

Output voltage

VSS-0.3~+12

V

PD

Allowable loss

200 (MMP-3A)
300 (TO-92A)

mA
Description
These 44019 low reset type ICs function in a variety of CPU systems and other logic systems, to detect power supply voltage and reset the system accurately when power is turned on or interrupted. 44019 are ideal for use in battery check circuits for products using batteries, as they have ultra-low current consumption and a high precision voltage detection function.