Features:
• DAC SNR 98dB, THD -86dB ('A' weighted @ 48kHz, 3.3V)
• On-chip 400mW BTL Speaker Driver (mono)
• On-chip Headphone Driver
- 40mW output power on 16Ω / 3.3V
- SNR 96dB, THD 79dB at 20mW with 16Ω load
• Stereo and Mono Line-in mix into DAC output
• Separately Mixed Stereo and Mono Outputs
• Digital Tone Control and Bass Boost
• Low Power
- Down to 7mW for stereo playback (1.8V / 1.5V supplies)
- 10µW Shutdown Mode
• Low Supply Voltages
- Analogue and Digital I/O: 1.8V to 3.6V
- Digital core: 1.42V to 3.6V
• 256fs / 384fs or USB master clock rates: 12MHz, 24MHz
• Audio sample rates: 8, 11.025, 12, 16, 22.05, 24, 32, 44.1,
48, 88.2, 96kHz generated internally from master clock
• 32-pin QFN package, 5x5x0.9mm size, 0.5mm lead pitch
Application
• Digital Audio Player
• MP3 Phone
• Minidisc Player
Pinout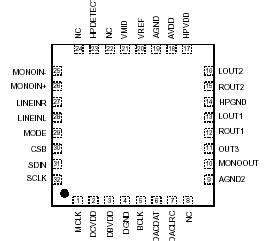 Specifications
| | | |
| --- | --- | --- |
| CONDITION | MIN | MAX |
| Digital supply voltage | -0.3V | +5V |
| Analogue supply voltage | -0.3V | +7V |
| Voltage range digital inputs | AGND -0.3V | DVDD +0.3V |
| Voltage range analogue inputs | AGND -0.3V | AVDD +0.3V |
| Master Clock Frequency | | 37MHz |
| Operating temperature range, TA | -25°C | +85°C |
| Storage temperature after soldering | -65°C | +150°C |
| Package body temperature (soldering 10 seconds) | | +240°C |
| Package body temperature (soldering 2 minutes) | | +183°C |
Notes:
1. Analogue and digital grounds must always be within 0.3V of each other.
2. All digital and analogue supplies are completely independent from each other.
Description
The WM8751L is a low power, high quality stereo DAC with integrated headphone and loudspeaker amplifiers, designed to reduce external component requirements in portable digital audio applications. The on-chip headphone amplifiers can deliver 40mW into a 16Ω load.

Advanced on-chip digital signal processing performs bass and treble tone control. The WM8751L can operate as a master or a slave, with various master clock frequencies including 12 or 24MHz for USB devices or standard 256fs rates like 12.288MHz and 24.576MHz.

Different audio sample rates of the WM8751L such as 96kHz, 48kHz, 44.1kHz are generated directly from the master clock without the need for an external PLL.

The WM8751L operates on supply voltages from 1.8V up to 3.6V, although the digital core can operate on a separate supply down to 1.42V, saving power. Different sections of the chip can also be powered down under software control.

The WM8751L is supplied in a very small and thin 5x5mm QFN package, ideal for use in hand-held and portable systems.