Features:
· ConcurrentFlash™ Memory
Unique Architecture Allows the Flash Array To Be Read During the E
2
PROM Write Cycle
· 4 Megabit 5-volt Flash
Configured as a 512K x 8 Memory Array
120 ns Read Access Time
Sector Program Operation
Single Cycle Reprogram (No Erase Necessary)
2048 Sectors, 256-Bytes Wide
10 ms Sector Rewrite
JEDEC Standard Software Data Protection
· 256K bit Full Feature E
2
PROM
Configured as a 32K x 8 Memory Array
Byte or Page (16 bytes) Write Capability
Write Cycle Time: 10 ms
JEDEC Standard Software Data Protection
· Pinout Similar to 32-Pin 4 Mb Flash
· Data Memory Endurance: 10,000 cycles
Pinout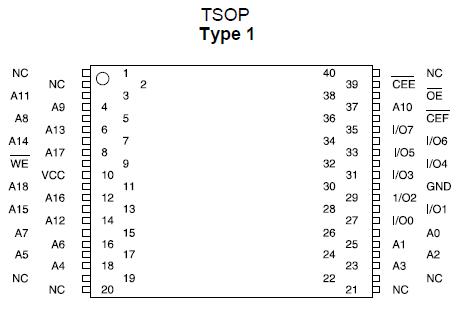 Specifications
Temperature Under Bias................. -55°C to +125°C
Storage Temperature...................... -65°C to +150°C
All Input Voltages
(including NC Pins)
with Respect to Ground ................... -0.6V to +6.25V
All Output Voltages
with Respect to Ground .............-0.6V to VCC + 0.6V
Voltage on
OE
with Respect to Ground ................... -0.6V to +13.5V
*NOTICE: Stresses beyond those listed under "Absolute Maximum Ratings" may cause permanent damage to the device. This is a stress rating only and functional operation of the device at these or any other conditions beyond those indicated in the operational sections of this specification is not implied. Exposure to absolute maximum rating conditions for extended periods may affect device reliability.
Description
The AT29C432 is a CMOS memory specifically designed for applications requiring both a high density nonvolatile program memory and a smaller nonvolatile data memory. The AT29C432 provides this in the form of a 4 megabit Flash array integrated with a 256K bit full featured E
2
PROM array on the same device. A unique feature of this device is its concurrent read while writing capability. This provides the host system read access to the Flash program memory during the write cycle time of the E2PROM.
The two memory arrays share all I/O lines, Address lines and
OE
and
WE
inputs. Each memory array has its own Chip Enable input:
CEF
for the Flash array and
CEE
for the E2PROM array.
Additionally, Software Data Protection has been independently implemented for both arrays and is always enabled. The AT29C432 has a pinout similar to the AT29C040A Flash memory. A system designer using a Flash memory for program storage and another smaller, non volatile memory for data storage can easily replace both memories with the AT29C432.