Features:
• Single chip USB to 10/100/1000 Gigabit Ethernet and HomePNA and HomePlug Network Controller
• USB specification 1.0 and 1.1 and 2.0 compliant
• Supports USB Full and High Speed modes with Bus power capability
• Supports 4 endpoints on USB interface
• High performance packet transfer rate over USB bus using proprietary burst transfer mechanism (submitted for US patent application)
• IEEE 802.3, 802.3u, and 802.3ab (10BASE-T,100BASE-TX, and 1000BASE-T) compatible
• Embedded 20KB SRAM for RX packet buffering and 20KB SRAM for TX packet buffering
• Supports both full-duplex and half-duplex operation in Fast Ethernet
• Provides MII/GMII/RGMII interfaces for Ethernet PHY interface and MII interface for HomePNA/ HomePlug PHY interface
• Supports Jumbo packet of up to 9KB
• Supports Suspend mode and Remote Wakeup via Link-up, Magic packet, or external pin
• Optional PHY power down during Suspend mode
• Supports 256/512 bytes (93c56/93c66) of serial EEPROM (for storing USB Descriptors)
• Supports automatic loading of Ethernet ID, USB Descriptors and Adapter Configuration from EEPROM after power-on initialization
• External PHY loop-back diagnostic capability
• Integrates on-chip 3.3V to 2.5V voltage regulator and requires only single power supply: 3.3V
• Small form factor with 128-pin LQFP package
• 12MHz clock input from either crystal or oscillator source
Pinout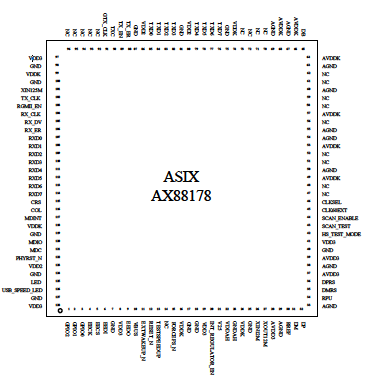 Specifications
Symbol
Parameter
Rating
Unit
VDDK
Digital core power supply
- 0.3 to VDDK + 0.3
V
VDD2
Power supply of 2.5V I/O
- 0.3 to VDD2 + 0.3
V
VDD3
Power supply of 3.3V I/O
- 0.5 to VDD3 + 0.5
V
AVDDK
Analog core power supply
- 0.3 to AVDDK + 0.3
V
AVDD3
Power supply of analog I/O
- 0.5 to AVDD3 + 0.5
V
VIN2
Input voltage of 2.5V I/O
- 0.3 to VDD2 + 0.3
V
Input voltage of 2.5V I/O with 3.3V tolerant
- 0.3 to 3.9
V
VIN3
Input voltage of 3.3V I/O
- 0.3 to VDD3 + 0.3
V
Input voltage of 3.3V I/O with 5V tolerant
- 0.3 to 5.5
V
TSTG
Storage temperature
- 40 to 150
Description
The AX88178 USB to 10/100/1000 Gigabit Ethernet/HomePNA/HomePlug controller is a high performance and highly integrated ASIC with embedded 40KB SRAM for packet buffering. It enables low cost and affordable Gigabit Ethernet network connection to desktop and notebook PC using popular USB ports that are built-in to many PC today. It has an USB interface to communicate with USB host controller and is compliant with USB specification V1.0, V1.1 and V2.0. It implements 10/100/1000Mbps Ethernet LAN function based on IEEE802.3, IEEE802.3u, IEEE802.3ab standards or HomePNA standard. It supports media-independent interface (MII) to simplify the design on implementing Fast Ethernet and HomePNA functions. It also provides gigabit media-independent (GMII) and reduced gigabit media-independent RGMII) interface for interfacing with Gigabit Ethernet PHY.
The AX88178 needs 12MHz clock for USB operation and 125MHz clock for Gigabit Ethernet operation. It is in 128-pin LQFP low profile package with CMOS process and requires only single 3.3V power supply to operate.