Features:
` IEEE 802.3u repeater compatible
` Supports per port 10/100Mbps alternative with auto detected
` Build in 10/100Mbps bridge engine with following features
1.Minimum 32K bytes, maximum 128K bytes SRAM to buffer packets
2.Seamless buffer management without waste any space of buffer memory
3.Simple asynchronous 8-bit SRAM interface to reduce system cost
4.256 or 1024 entries is supported
5.Auto learning and filtering
6.Two forwarding modes are supported : Store-n-Forward and fragment-free
7.Flow-control is supported optionally.
8.Buffer RAM auto testing
9.Routing and Learning at wire speed (148810 packets/sec at 100Mbps)
` Supports 5 10/100Mbps network connections
` 5 dedicated MII interfaces can support 100BASE-TX/T4/FX PHY interfaces
` 5th Port can connect to bridge, switch or MAC type device optionally.
` Low latency design supports Class II repeater implementation
` All ports can be separately isolated or partitioned in response to fault condition
` Separate jabber and partition state machines for each port
` Per-port LED display for Jabber, Partition, Activity. Global partition, RAM test fail and collision, utilization (%) for 10/100Mbps presentation
` Power on LED diagnosis. All the LED display will follow the "ON-OFF-ON-OFF-Normal" operation procedure during/after power on reset
` 160-pin PQFP
Pinout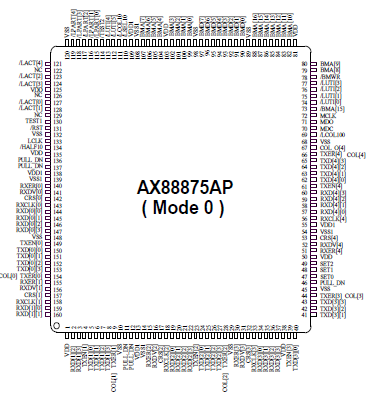 Description
The AX88875A Repeater Controller is a subset of a repeater set containing all the repeater-specific components and functions, exclusive of PHY components and functions. The AX88875A has five Media Independent Interfaces (MII) to connect to PHY or MAC devices.
The AX88875A supports 5 MII interfaces ports, a bridge packet buffer SRAM interface and LED display interface. AX88875A without support expansion port to cascade to other AX88850 and AX88860 pure 100Mbps repeater chips.
The AX88875A supports stand along 10/100Mbps dual speed repeater applications with two LED display mode.