Features:
*STANDARD JEDEC PLASTIC PACKAGE
*MEETS EN55022 CLASS B
*LOW PROFILE: 0.15" (3.8mm)
*SYNCHRONIZABLE
*OUTPUT SHORT CIRCUIT PROTECTION
*THERMAL SHUTDOWN
*STARTS INTO ANY CAPACITIVE LOAD
*FLOATING OUTPUTS
*EFFICIENCY: Up to 75% (at Full Load)
*1000Vrms ISOLATION
*400kHz SWITCHING
*108 MILLION HOURS MTTF
*5V, ±5V, 12V, ±12V, 15V, ±15V OUTPUTS
*AVAILABLE IN TAPE AND REEL
Application
POINT OF USE POWER CONVERSION
DIGITAL INTERFACE POWER
GROUND LOOP ELIMINATION
DATA ACQUISITION
INDUSTRIAL CONTROL AND INSTRUMENTATION
TEST EQUIPMENT
Pinout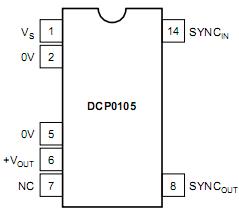 Specifications
Input Voltage ..................................................7V
Storage Temperature ..........60°C to +150°C
Lead Temperature (soldering, 10s) .........300°C
Description
The DCP0105 family is a series of high efficiency, 5V input isolated DC/DC converters. In addition to 1W nominal galvanically isolated output power capability, the range of DC/DCs are also fully synchronizable. The devices feature thermal shutdown, and overload protection is implemented via watchdog circuitry. Advanced power-on reset techniques give superior reset performance and the devices will start into any capacitive load up to full power output.

The DCP0105 family is implemented in standard molded IC packaging, giving outlines suitable for high volume assembly.