Features:
·16 10/100/1000 Mb/s Ethernet ports with non-blocking wire-speed performance
·32 Gbit/s internal switching bandwidth, 24 Mpps forwarding rate
· MII / GMII / RGMII operation for copper PHYs, TBI / RTBI interface for fiber / SerDes
· 4-wire serial CPU interface for low cost unmanaged systems
·16-bit CPU interface for SNMP and Web based management
·256 kB on-chip frame buffer
· Programmable classifier for QoS (Layer-4/Multi-media)
·4k VLAN (IEEE802.1Q) and 4k MAC address support
·Full duplex flow control (IEEE802.3x) and half duplex back pressure
· Flexible link aggregation based on IEEE802.3ad
· Spanning Tree Protocol support (IEEE802.1D)
· GARP, GMRP and GVRP support
· IGMP Snooping supported
·Extended statistics for RMON IEEE 802.3z TBI
· JTAG (IEEE 1149,1-1994) support
Pinout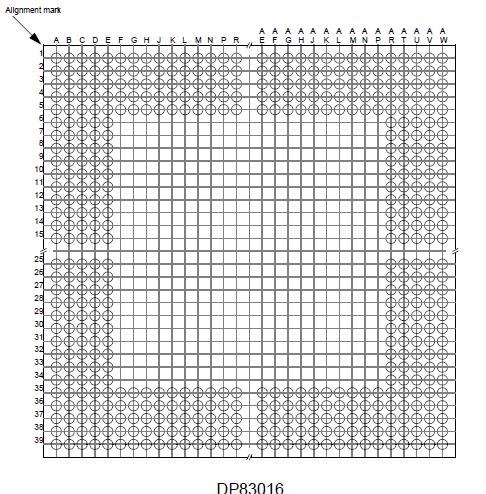 Description
The DP83016 (Falcon switch) is a wirespeed, full featured 16-port Gigabit Ethernet Switch-On-a-Chip with several integrated management interfaces, which supports both, copper and optical PHYs.
The DP83016 provides non-blocking, wire-speed Gigabit performance on all ports and supports both managed and unmanaged operation.
The DP83016 minimizes total system cost. It offers the most cost effective 16 port Gigabit switch solution in the market by removing the need for external memory. Furthermore, it eliminates the requirement for a configuration EEPROM.
An on-chip 256kB frame buffer allows for an extremely simple system design.
Using only two DP83016 devices, 24-port Gigabit Switch designs are possible.
The DP83016 forwards frames at layer 2 based on information from layer 2 through layer 4. It supports programmable classification and prioritization to enable enhanced Quality of Service (QoS) support for real time applications such as Voice-over-IP (VoIP).