Features:
· Operating voltage: 2.4~4.0V
· On-chip SRAM
· Robot function
· Vibrato function
· 8kHz sampling rate
· 7-step level shifting
· 8-bit A/D and D/A converters
· LED indicator with voice level
· Push button selection or electronic mode
· Few external components required
· 16-pin/18-pin DIP package
Application
· Toys
· Mixers
· Recorders
· Audio system
· Speech system
· Telephone system
Pinout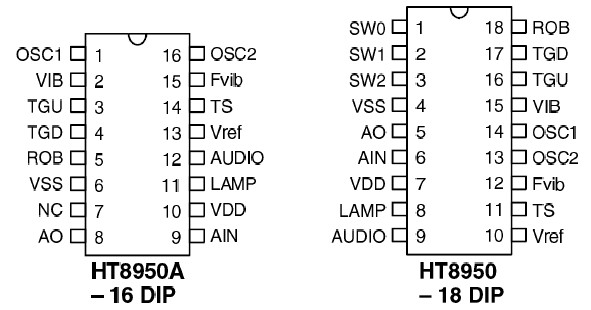 Specifications
Supply Voltage ...............................0.3V to 6V
Input Voltage................. VSS0.3V to VDD+0.3V
Storage Temperature.................50 to 125
Operating Temperature............... 20 to 70

*Note: These are stress ratings only. Stresses exceeding the range specified under "Absolute Maximum Ratings" may cause substantial damage to the device. Functional operation of this device at other conditions beyond those listed in the specification is not implied and prolonged exposure to extreme conditions may affect device reliability.
Description
The HT8950 is a single chip CMOS LSI voice modulator. It provides 7 steps to shift the frequency of an input voice, producing a dramatical change in the output.
The HT8950 provides two special effects: Vibrato and Robot. The Vibrato effect is generated by alternating the frequency of an input signal up and down at a rate of 8Hz. The Robot function, on the other hand, converts an input voice into a Robot voice. Both effects can be selected depending on which pin is triggered, either ROB or VIB. For the output frequency level shifting, the chip provides 7 steps which can be selected from the two groups of pins namely, SW0, SW1 and SW2 for electronic direct selection and ROB, TGD, TGU and VIB for push button selection.
The HT8950 includes a built-in microphone amplifier with an internal bias, an 8-bit A/D converter, a built-in SRAM as well as a current output type 8-bit D/A converter. The 8-bit A/D and D/A converters with a sampling rate of 8kHz ensures a high quality and high S/N ratio output voice. The chip provides an LED indicator which flashes with the volume of the input voices. It is offered in a 16-pin or 18-pin DIP package.