Features:
• Part Identification
- K4F170411C-B(F) (5V, 4K Ref.)
- K4F160411C-B(F) (5V, 2K Ref.)
- K4F170412C-B(F) (3.3V, 4K Ref.)
- K4F160412C-B(F) (3.3V, 2K Ref.)
• Fast Page Mode operation
•
CAS
-before-
RAS
refresh capability
•
RAS
-only and Hidden refresh capability
• Self-refresh capability (L-ver only)
• Fast parallel test mode capability
• TTL(5V)/LVTTL(3.3V) compatible inputs and outputs
• Early Write or output enable controlled write
• JEDEC Standard pinout
• Available in Plastic SOJ and TSOP(II) packages
• Single +5V±10% power supply (5V product)
• Single +3.3V±0.3V power supply (3.3V product)
Pinout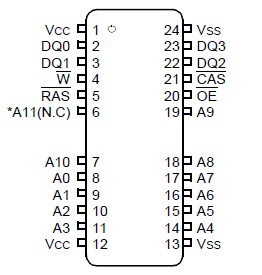 Specifications
Parameter
Symbol
Rating
Units
3.3V
5V
Voltage on any pin relative to VSS
VIN,VOUT
-0.5 to +4.6
-1.0 to +7.0
V
Voltage on VCC supply relative to VSS
VCC
-0.5 to +4.6
-1.0 to +7.0
V
Storage Temperature
Tstg
-55 to +150
-55 to +150
°C
Power Dissipation
PD
1
1
W
Short Circuit Output Current
IOS Address
50
50
mA
* Permanent device damage may occur if "ABSOLUTE MAXIMUM RATINGS" are exceeded. Functional operation should be restricted to the conditions as detailed in the operational sections of this data sheet. Exposure to absolute maximum rating conditions for extended periods may affect device reliability.
Description
This is a family of 4,194,304 x 4 bit Fast Page Mode CMOS DRAMs K4F160412C. Fast Page Mode offers high speed random access of memory cells within the same row. Power supply voltage (+5.0V or +3.3V), refresh cycle (2K Ref. or 4K Ref.), access time (-50 or -60), power consumption(Normal or Low power) and package type(SOJ or TSOP-II) are optional features of this family. All of this family have CAS before-RAS refresh, RAS-only refresh and Hidden refresh capabilities. Furthermore, Self-refresh operation is available in L-version.This 4Mx4 Fast Page Mode DRAM K4F160412C family is fabricated using Samsung¢s advanced CMOS process to realize high band-width, low power consumption and high reliability. THe K4F160412C may be used as main memory for high level computer, microcomputer and personal computer.