Features:
Wide Range of Supply Voltages:
Single Supply...3 V to 30 V (LM2904 and LM2904Q...3 V to 26 V) or
Dual Supplies
Low Supply-Current Drain Independent of Supply Voltage . . . 0.7 mA Typ
Common-Mode Input Voltage Range Includes Ground, Allowing Direct Sensing Near Ground
Low Input Bias and Offset Parameters:
Input Offset Voltage ...3 mV Typ A Versions ...2 mV Typ
Input Offset Current...2 nA Typ
Input Bias Current...20 nA Typ A Versions . . . 15 nA Typ
Differential Input Voltage Range Equal to Maximum-Rated Supply Voltage . . . ±32 V(LM2904 and LM2904Q... ±26 V)
Open-Loop Differential Voltage Amplification . . . 100 V/mV Typ
Internal Frequency Compensation
Pinout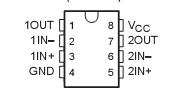 Specifications


LM158, LM158A
LM258, LM258A
LM358, LM358A
LM2904
LM2904Q
UNIT
Supply voltage, VCC (see Note 1)

32
26
V
Differential input voltage, VID (see Note 2)

32
±
26
±
V
Input voltage, VI (either input)

0.3 to 32
0.3 to 26
V
Duration of output short circuit (one amplifier) to ground
at (or below) 25 free-air temperature (V 15 V) (see Note 3)
Unlimited
Unlimited
Continuous total power dissipation
See Dissipation Rating Table
Operating free-air temperat rature range, TA

LM158, LM158A
55 to 125
LM258, LM258A
25 to 85
LM358, LM358A
0 to 70
LM2904, LM2904Q
40 to 125
Storage temperature range, Tstg

65 to 150
65 to 150
Case temperature for 60 seconds
FK package
260
Lead temperature 1,6 mm (1/16 inch) from case for 60 seconds
JG package
300
300
Lead temperature 1,6 mm (1/16 inch) from case for 10 seconds
D, P, or PW package
260
260
Description
These devices LM2904Q consist of two independent, high-gain, frequency-compensated operational amplifiers designed to operate from a single supply over a wide range of voltages. Operation from split supplies also is possible if the difference between the two supplies is 3 V to 30 V (3 V to 26 V for the LM2904 and LM2904Q), and VCC is at least 1.5 V more positive than the input common-mode voltage. The low supply-current drain is independent of the magnitude of the supply voltage.
Applications include transducer amplifiers, dc amplification blocks, and all the conventional operational amplifier circuits that now can be more easily implemented in single-supply-voltage systems. For example, these devices can be operated directly from the standard 5-V supply used in digital systems and easily provides the required interface electronics without additional ±5-V supplies.
The LM2904Q is manufactured to demanding automotive requirements.
The LM158 and LM158A are characterized for operation over the full military temperature range of 55 to 125.The LM258 and LM258A are characterized for operation from 25 to 85, the LM358 and LM358A from 0 to 70, and the LM2904 and LM2904Q from 40 to 125.