Number of Outputs : 1
Maximum Operating Temperature : + 125 C
Mounting Style : SMD/SMT
Output Voltage : 5 V
Output Type : Fixed
Input Voltage MAX : 40 V
Output Current : 100 mA
Load Regulation : 50 mV
Package / Case : SO-8
Dropout Voltage (Max) : 600 mV
Features:
VERY LOWDROPOUT VOLTAGE (0.15V TYP. AT 10mA LOAD)
LOWQUIESCENT CURRENT (TYP 2.5mA,AT 100mA LOAD)
OUTPUT CURRENT UP TO100mA
ADJUSTABLE (FROM VOUT=2.5VONLY SO-8) AND FIXED (3.3V & 5V) OUTPUT
VOLTAGEVERSION
INTERNAL CURRENT AND THERMAL LIMIT
LOADDUMP PROTECTION UP TO 60V
REVERSETRANSIENT PROTECTIONUP TO -50V
TEMPERATURE RANGE: -40 TO 125 oC
PACKAGEAVAILABLE:TO-92, DPAK,TO-220,SO-8 (WITH INHIBITCONTROL)
Pinout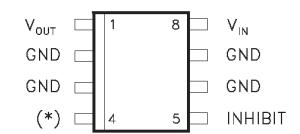 Description
The LM2931BD50 series are very low drop regulators. The very low drop voltage and the low quiescent current make them particular suitable for low noise, low power appl ications and in battery powered systems. In the 8 pin configation (SO-8), fully compatible to the older L78L00 family, a shut down Logic Control function is available.
This means that when the device is used as a local regulator is possible to put a part of the board in stand-by decreasing the total power consumption. Ideal for automotive application the LM2931BD50 is proteceted from reverse batteryinstallations or 2 bat tery jumps. During the transient, suchs as a a load dump (60V) when
the input voltage can exceed the specified maximum operating input voltage (26V), the regulator will automatically shut down to protect both internal circuit and the load.