Features:
Guaranteed 50 mA output current
Smallest possible size (SOT-23 Package)
Requires few external components
< 1 µA quiescent current when shutdown
Low ground pin current at all load currents
Output voltage accuracy 0.5% (A Grade)
High peak current capability (150 mA typical)
Wide supply voltage range (16V max)
Fast dynamic response to line and load
Low ZOUT 0.1Ω typical (10 Hz to 1 MHz)
Overtemperature/overcurrent protection
−40˚C to +125˚C junction temperature range
Application
Cellular Phone
Palmtop/Laptop Computer
Personal Digital Assistant (PDA)
Camcorder, Personal Stereo, Camera
Pinout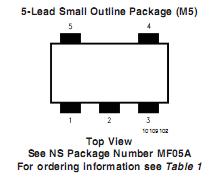 Specifications
Storage Temperature Range −65˚C to +150˚C
Operating Junction Temperature
Range −40˚C to +125˚C
Lead Temperature
(Soldering, 5 sec.) 260˚C
ESD Rating (Note 2) 2 kV
Power Dissipation (Note 3) Internally Limited
Input Supply Voltage (Survival) −0.3V to +16V
Input Supply Voltage (Operating) 2.1V to +16V
ON/OFF Input Voltage (Survival) −0.3V to +16V
Output Voltage (Survival), (Note
4) −0.3V to +9V
IOUT (Survival) Short Circuit Protected
Input-Output Voltage (Survival),
(Note 5) −0.3V to +16V
Description
The LP2980LV is a 50 mA, fixed-output voltage regulator designed for high performance in applications requiring out-
put voltages below 2V.
Using an optimized VIP™ (Vertically Integrated PNP) process, the LP2980LV delivers unequalled performance in all
specifications critical to battery-powered designs:
Low Ground Pin Current. Typically 280 µA @ 50 mA load,and 75 µA @ 1 mA load.
Sleep Mode. Less than 1 µA quiescent current when ON/ OFF pin is pulled low.
Smallest Possible Size. SOT-23 package uses absolute minimum board space.
Precision Output. 0.5% tolerance output voltages available (A grade).