Features:
Programmable Differential Gain via Two External Resistors
Adjustable Output Common Mode Voltage
Operates and Specified with 3V, 5V, ±5V Supplies
0.5dB Ripple 4th Order Lowpass Filter with 10MHz Cutoff
82dB S/N with 3V Supply and 2VP-P Output
Low Distortion, 2VP-P, 800W Load
1MHz: 88dBc 2nd, 97dBc 3rd
5MHz: 74dBc 2nd, 77dBc 3rd
Fully Differential Inputs and Outputs
SO-8 Package
Compatible with Popular Differential Amplifier Pinouts
Application
High Speed ADC Antialiasing and DAC Smoothing in Networking or Cellular Base Station Applications
High Speed Test and Measurement Equipment
Medical Imaging
Drop-in Replacement for Differential Amplifiers
Pinout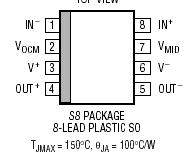 Specifications
Total Supply Voltage ................................................ 11V
Operating Temperature Range (Note 6) ...40°C to 85°C
Specified Temperature Range (Note 7) ....40°C to 85°C
Junction Temperature ........................................... 150°C
Storage Temperature Range ................. 65°C to 150°C
Lead Temperature (Soldering, 10 sec).................. 300°C
Description
The LT®6600-10 combines a fully differential amplifier with a 4th order 10MHz lowpass filter approximating a
Chebyshev frequency response. Most differential amplifiers require many precision external components to tailor
gain and bandwidth. In contrast, with the LT6600-10, two external resistors program differential gain, and the filter's 10MHz cutoff frequency and passband ripple are internally set. The LT6600-10 also provides the necessary level shifting to set its output common mode voltage to accommodate the reference voltage requirements of A/Ds.
Using a proprietary internal architecture, the LT6600-10 integrates an antialiasing filter and a differential amplifier/ driver without compromising distortion or low noise performance. At unity gain the measured in band
signal-to-noise ratio is an impressive 82dB. At higher gains the input referred noise decreases so the part can
process smaller input differential signals without significantly degrading the output signal-to-noise ratio.
The LT6600-10 also features low voltage operation. The differential design provides outstanding performance for
a 2VP-P signal level while the part operates with a single 3V supply.
For similar devices with other cutoff frequencies, refer to the LT6600-20 and LT6600-2.5.