Features:
`Fully integrated transceivers for Short-Haul T1 or E1 interfaces
`Crystal-less digital jitter attenuation
-Select either transmit or receive path
-No crystal or high speed external clock required
`Meet or exceed specifications in ANSI T1.403 and T1.408; ITU I.431, G.703, G.736, G.775 and G.823; ETSI 300-166 and 300-233; and AT&T Pub 62411
`Supports 75 (E1 coax), 100 (T1 twisted-pair) and 120 (E1 twisted-pair) applications
`Fully restores the received signal after transmission through a cable with attenuation of 18dB, at 1024 kHz
`Five pulse equalization settings for T1 short-haul applications
`Transmit/receive performance monitors with Driver Fail Monitor Open (DFM) and Loss of Signal (LOS) outputs
`Selectable unipolar or bipolar data I/O and B8ZS/HDB3 encoding/decoding
`QRSS generator/detector for testing or monitoring
`Output short circuit current limit protection
`Local, remote and analog loopback capability
`Compatible with Intel's LXT360/361 T1/E1 long haul/short haul transceiver (Universal LIU)
`Multiple register parallel interface compatible with both Intel and Motorola microprocessors
`Available in 28-pin PLCC and 44-pin PQFP packages
Application
· SONET/SDH tributary interfaces
· Digital cross connects
· Public/private switching trunk line interfaces
· Microwave transmission systems
Pinout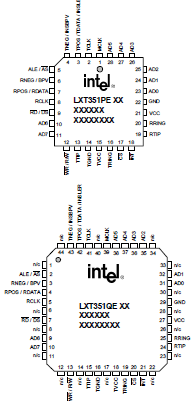 Specifications
Parameter

Sym

Min

Max

Unit

DC supply (reference to GND)

VCC, TVCC

6.0

V

Input voltage, any pin 1

VIN

GND - 0.3 V

VCC + 0.3 V

V

Input current, any pin 2

IIN

- 10

10

mA

Storage Temperature

TSTG

-65

150

Caution: Exceeding these values may cause permanent damage.
Caution: Functional operation under these conditions is not implied.
Caution: Exposure to maximum rating conditions for extended periods may affect device reliability.
1. TVCC and VCC must not differ by more than 0.3 V during operation. TGND and GND must not differ by more than 0.3 V during operation.
2. Transient currents of up to 100 mA will not cause SCR latch-up. TTIP, TRING, TVCC, and TGND can withstand continuous currents of up to 100 mA.

Description
The LXT351 is a full-featured, fully-integrated transceiver for T1 and E1 short-haul applications. The LXT 351 is software switchable between T1 and E1 operation, and offers pulse equalization settings for all short-haul T1 and E1 line interface (LIU) applications.

The LXT351 offers an Intel/Motorola compatible parallel port for microprocessor control. The device incorporates advanced crystal-less digital jitter attenuation in either the transmit or receive data path starting at 3 Hz. B8ZS/HDB3 encoding/decoding and unipolar or bipolar data I/O are selectable. Loss of signal monitoring and a variety of diagnostic loopback modes can also be selected.