Features:
` IEEE 802.3 Compliant:
-10BASE-T and 100BASE-TX using a single RJ-45 connection.
-Supports auto-negotiation and parallel detection for legacy systems.
-MII interface with extended register capability.
` Robust baseline wander correction performance.
` 100BASE-FX fiber optic capable.
` Standard CSMA/CD or full-duplex operation.
` Configurable via MII serial port or external control pins.
` Configurable for DTE or switch applications.
` CMOS process with single 5Vsupply operation with provision for interface to 3.3V MII bus.
` Integrated LED drivers.
` Integrated supply monitor and line disconnect during low supply fault.
` Available in:
-64-pin TQFP (LXT970ATC)
-64-pin PQFP (LXT970AQC)
` Commercia
Application
· Combination 10BASE-T/100BASE-TX Network Interface Cards (NICs)
· 10/100 Switches, 10/100 Printservers
· 100BASE-FX Network Interface Cards (NICs)
Pinout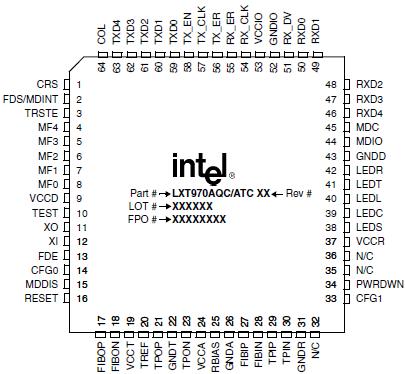 Specifications
Parameter

Sym

Min

Max

Units

Supply voltage

VCC

-0.3

6

V

Operating temperature

Ambient

TOPA

-15

85

Case

TOPC

-

+120

Storage temperature

TST

-65

+150

Caution
Exceeding these values may cause permanent damage.
Functional operation under these conditions is not implied.
Exposure to maximum rating conditions for extended periods may affect device reliability.
Description
The LXT970A is an enhanced derivative of the LXT970 10/100 Mbps Fast Ethernet PHY Transceiver that supports selectable driver strength capabilities and link-loss criteria. The LXT970A supports 100BASE-TX, 10BASE-T, and 100BASE-FX applications. It provides a Media Independent Interface (MII) for easy attachment to 10/100 Media Access Controllers (MAC)s and a pseudo-ECL interface for use with 100BASE-FX fiber networks.

The LXT970A supports full-duplex operation at 10 and 100 Mbps. Its operating condition is set using auto-negotiation, parallel detection or manual control. The encoder may be bypassed fo symbol mode applications.

The LXT970A is fabricated with an advanced CMOS process and requires only a single 5V power supply. The MII may be operated independently with either a 5V or a 3.3V supply.