Features:
• Accurate Timing From Microseconds Through Hours
• Astable and Monostable Operation
• Adjustable Duty Cycle
• Output Capable of Sourcing or Sinking up to 200mA
• Output Capable of Driving TTL Devices
• Normally ON and OFF Outputs
• High Temperature Stability . . . . . . . . . . . . . . 0.005%/
• Directly Interchangeable with SE555, NE555, MC1555, and MC1455
Application
• Precision Timing
• Pulse Generation
• Sequential Timing
• Pulse Detector
• Time Delay Generation
• Pulse Width and Position Modulation
Pinout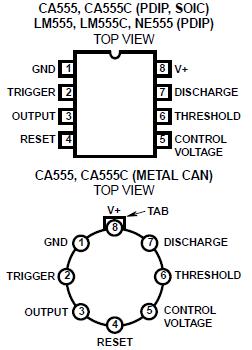 Specifications
DC Supply Voltage . . . . . . . . . . . . . . . . . . . . . . . . . . . . . . . . . . . 18V
Description
The CA555 and CA555C are highly stable timers for use in precision timing and oscillator applications. As timers, these monolithic integrated circuits are capable of producing accurate time delays for periods ranging from microseconds through hours. CA555 and CA555C are also useful for astable oscillator operation and can maintain an accurately controlled free running frequency and duty cycle with only two external resistors and one capacitor.

The circuits of the CA555 and CA555C may be triggered by the falling edge of the waveform signal, and the output of these circuits can source or sink up to a 200mA current or drive TTL circuits.

CA555 and CA555C are direct replacements for industry types in packages with similar terminal arrangements e.g. SE555 and NE555, MC1555 and MC1455, respectively. The CA555 type circuits are intended for applications requiring premium electrical performance. The CA555C type circuits are intended for applications requiring less stringent electrical characteristics.

The NE555 is a kind of monolithic timing circuit which is capable of producing accurate time delays or oscillation.Its timed interval is controlled by a single external resistor and capacit or network in the time delaymode of operation.
Features of the NE555 are:(1)timing from microseconds to hours; (2)astable or monostable operation; (3)adjustable duty cycle; (4)TTL - compatible output can sink or source up to 200 mA; (5)temperature stability of 0.005% per oC; (6)direct replacement for signetics NE555 timer.
The absolute maximum ratings of the NE555 can be summarized as:(1): supply voltage(VCC) is 4.5 V min and 16 V max; (2): input voltage (control, reset, threshold and trigger) is VCC V; (3): output current(I0) is ±200 mA; (4): operating free-air temperature(TA ) is 70°C; (5): storage temperature range(TSTG) is -65°C +150°C.