Features:
• Voltage Supply
- 2.70V ~ 3.60V
• Organization
- Memory Cell Array : (1G + 32M) x 8bit
- Data Register : (2K + 64) x 8bit
• Automatic Program and Erase
- Page Program : (2K + 64)Byte
- Block Erase : (128K + 4K)Byte
• Page Read Operation
- Page Size : (2K + 64)Byte
- Random Read : 25s(Max.)
- Serial Access : 25ns(Min.)
1G x 8 Bit / 2G x 8 Bit NAND Flash Memory
• Fast Write Cycle Time
- Page Program time : 200s(Typ.)
- Block Erase Time : 1.5ms(Typ.)
• Command/Address/Data Multiplexed I/O Port
• Hardware Data Protection
- Program/Erase Lockout During Power Transitions
• Reliable CMOS Floating-Gate Technology
- Endurance : 100K Program/Erase Cycles(with 1bit/512Byte ECC)
- Data Retention : 10 Years
• Command Driven Operation
• Intelligent Copy-Back with internal 1bit/528Byte EDC
• Unique ID for Copyright Protection
• Package :
- K9K8G08U0A-PCB0/PIB0
48 - Pin TSOP I (12 x 20 / 0.5 mm pitch)
- K9WAG08U1A-PCB0/PIB0
48 - Pin TSOP I (12 x 20 / 0.5 mm pitch)
- K9WAG08U1A-ICB0/IIB0
52 - Pin TLGA (12 x 17 / 1.0 mm pitch)
Pinout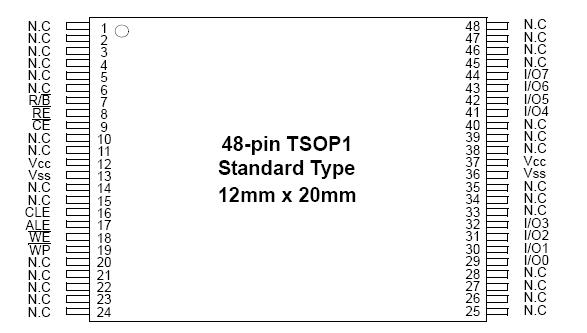 Specifications
Parameter
Symbol
Rating
Unit
Voltage on any pin relative to VSS
VCC
-0.6 to +4.6
V
VIN
-0.6 to +4.6
VI/O
-0.6 to Vcc+0.3 (<4.6V)
Temperature Under Bias
K9XXG08UXA-XCB0
TBIAS
-10 to +125
°C
K9XXG08UXA-XIB0
-40 to +125
Storage Temperature
K9XXG08UXA-XCB0
TSTG
-65 to +150
°C
K9XXG08UXA-XIB0
Short Circuit Current
IOS
5
mA
Description
Offered in 1G x 8bit, the K9K8G08U0A is a 8G-bit NAND Flash Memory with spare 256M-bit. K9K8G08U0A NAND cell provides the most costeffective solution for the solid state application market. A program operation can be performed in typical 200s on the (2K+64)Byte page and an erase operation can be performed in typical 1.5ms on a (128K+4K)Byte block. Data in the data register can be read out at 25ns cycle time per Byte. The I/O pins serve as the ports for address and data input/output as well as command input. The on-chip write controller automates all program and erase functions including pulse repetition, where required, and internal verification and margining of data. Even the write-intensive systems can take advantage of the K9K8G08U0As extended reliability of 100K program/ erase cycles by providing ECC(Error Correcting Code) with real time mapping-out algorithm. The K9K8G08U0A is an optimum solution for large nonvolatile storage applications such as solid state file storage and other portable applications requiring non-volatility. An ultra high density solution having two 8Gb stacked with two chip selects is also available in standard TSOPI package.