Features:
20 taps of equal delay increment
High bandwidth (TD/TR =10)
Low profile
Epoxy encapsulated
Meets or exceeds MIL-D-23859C
Pinout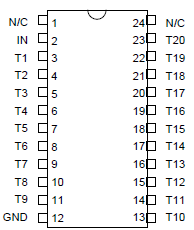 Specifications
Dielectric breakdown :50 Vdc
Distortion @ output :10% max.
Operating temperature : -55°C to +125°C
Storage temperature : -55°C to +125°C
Temperature coefficient : 100 PPM/°C
Description
The 2214-series device is a fixed, single-input, twenty-output, passive delay line. The signal input (IN) is reproduced at the outputs (T1-T20) in equal increments. The delay from IN to T20 (T
D
) is given by the device dash number. The 2214-2000G characteristic impedance of the line is given by the letter code that follows the dash number (See Table). The rise time (T
R
) of the line is 10% of T
D
, and the 3dB bandwidth is given by 3.5 / T
D
.