Features:
` Fast Read Access Time - 70 ns
` 5-Volt-Only Reprogramming
` Sector Program Operation
Single Cycle Reprogram (Erase and Program)
512 Sectors (128 words/sector)
Internal Address and Data Latches for 128 Words
` Internal Program Control and Timer
` Hardware and Software Data Protection
` Fast Sector Program Cycle Time - 10 ms
`
DATA
Polling for End of Program Detection
` Low Power Dissipation
60 mA Active Current
200 A CMOS Standby Current
` Typical Endurance > 10,000 Cycles
` Single 5V ±10% Supply
` CMOS and TTL Compatible Inputs and Outputs
` Commercial and Industrial Temperature Ranges
Pinout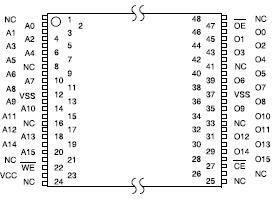 Specifications
Temperature Under Bias................. -55°C to +125°C
Storage Temperature..................... -65°C to +150°C
All Input Voltage
(including NC Pins)
with Respect to Ground ................... -0.6V to +6.25V
All Output Voltages
with Respect to Ground ..............-0.6V to VCC + 0.6V
Voltage on OE
with Respect to Ground ................... -0.6V to +13.5V
*NOTICE: Stresses beyond those listed under "Absolute Maximum Ratings" may cause permanent damage to the device. This is a stress rating only and functional operation of the device at these or any other conditions beyond those indicated in the operational sections of this specification is not implied. Exposure to absolute maximum rating conditions for extended periods may affect device reliability.
Description
The AT29C1024 is a 5-volt-only in-system Flash programmable and erasable read only memory (PEROM). AT29C1024 1 megabit of memory is organized as 65,536 words by 16 bits. Manufactured with Atmel's advanced nonvolatile CMOS technology, the device offers access times to 70 ns with power dissipation of just 330 mW. When AT29C1024 is deselected, the CMOS standby current is less than 200 A. The device endurance is such that any sector can typically be written to in excess of 10,000 times.
To allow for simple in-system reprogrammability, the AT29C1024 does not require high input voltages for programming. Five-volt-only commands determine the operation of the device. Reading data out of the device is similar o reading from an EPROM. Reprogramming the AT29C1024 is performed on a sector basis; 128 words of data are loaded into the device and then simultaneously programmed.