Features:
CLI and CIDCW System Operation
Low Power Operation 0.5mA at 2.7V
Zero-Power Ring or Line Reversal Detector
FSK Demodulator with Data Retiming
High Sensitivity CAS Tone Detection
Low CAS Tone Falsing in CIDCW Mode
Application
CLI and CIDCW Adjunct Boxes
CLI and CIDCW Feature Phones
Bellcore, ETSI, British Telecom and Mercury Systems
Computer Telephone Integration
Call Logging Systems
Voice-Mail Equipment
Specifications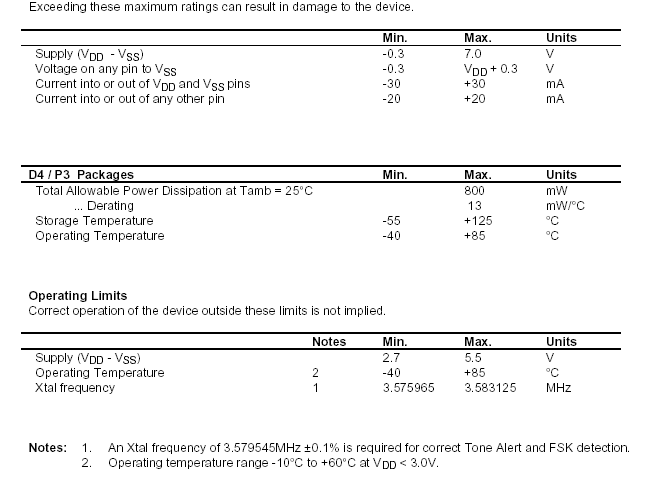 Description
The CMX602A is a low power CMOS integrated circuit for the reception of the physical layer signals used in BT's Calling Line Identification Service (CLIP), Bellcore's Calling Identity Delivery System (CID), the Cable Communications Association's Caller Display Services (CDS), and similar evolving systems. It also meets the requirements of emerging Caller Identity with Call Waiting services (CIDCW).
CMX602A includes a 'zero-power' ring or line reversal detector, a dual-tone (2130Hz plus 2750Hz) Tone Alert
Signal and a 1200-baud FSK V23/Bell202 compatible asynchronous data demodulator with a data retiming circuit which removes the need for a UART in the associated µController.
CMX602A is suitable for use in systems to BT specifications SIN227 and SIN242, Bellcore GR-30-CORE and SR-TSV-002476, CCA TW/P&E/312, ETSI ETS 300 659 parts 1 and 2, ETS 300 778 parts 1 and 2 and Mercury Communications MNR 19.