Series: -
Interface: I²C, 2-Wire Serial
Voltage - Supply: 4.5 V ~ 5.5 V
Packaging: Tube
Operating Temperature: 0°C ~ 70°C
Format - Memory: RAM
Memory Type: SRAM
Speed: 4MHz
Manufacturer: Maxim Integrated Products
Memory Size: 1K (1K x 1)
Package / Case: 10-DIP (0.300", 7.62mm)
Supplier Device Package: 10-PDIP
Features:
• 1024 bits of read/write memory
• Low data retention current for battery backup applications
• 4 million bits/second data rate
• Single byte or multiple byte data transfer capability
• No restrictions on the number of write cycles
• Low-power CMOS circuitry
• Applications include:
software authorization
computer identification
system access control
secure personnel areas
calibration
automatic system setup
traveling work record
Pinout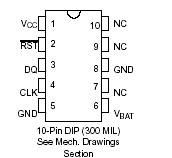 Specifications
Total Max Power: 1,200 W
Total Max Current: 100 A
Input Voltage: 90 V to 264 V
Output Voltage: 12.0 V
Outputs: Single
Size (L x W x H): 11.000" x 3.200" x 1.570"
Warranty: 1 year
Operating Temperature: -10 to +50
Description
The DS1200 is Emerson's highest power, highest density bulk front end in the industry standard 1U x 2U form factor. The DS1200 series is the latest addition to the popular DS650 and DS850 designed for hot plug distributed power solutions. Product series includes models with 12V output and either 3.3 or 5.0 Volt Standby. The DS1200 series incorporates the latest in Digital power supply technology using fully integrated DSP with serial user interface and PMBus Protocol.
The DS1200 Serial RAM Chip is a miniature read/write memory which can randomly access individual 8-bit strings (bytes) or sequentially access the entire 1024-bit contents (burst). Interface cost to a microprocessor is minimized by on-chip circuitry which permits data transfers with only three signals: CLOCK,RST, and DATA INPUT/ OUTPUT.

Nonvolatility can be achieved by connecting a battery of 2 to 4 volts at the battery input VBAT. A load of 0.5 mA should be used to size the external battery for the required data retention time. If nonvolatility is not required the VBAT pin should be grounded.

For a complete description of operating conditions, electrical characteristics, bus timing, and signal descriptions other than VBAT, see the DS1201 Electronic Tag 1024-Bit data sheet.