Series: -
Voltage - Supply: 4.5 V ~ 5.5 V
Operating Temperature: 0°C ~ 70°C
Packaging: Tube
Manufacturer: Maxim Integrated Products
Controller Type: Smartwatch RAM
Package / Case: 28-DIP (0.600", 15.24mm) Socket
Supplier Device Package: 28-DIP Socket
Features:
Keeps track of hundredths of seconds, seconds, minutes, hours, days, date of the month, months, and years
Converts standard 8K x 8 and 32K x 8 CMOS static RAMs into nonvolatile memory
Embedded lithium energy cell maintains watch information and retains RAM data
Watch function is transparent to RAM operation
Month and year determine the number of days in each month; leap year compensation valid up to 2100
Lithium energy source is electrically disconnected to retain freshness until power is applied for the first time
Proven gastight socket contacts
Full ±10% operating range
Operating temperature range 0°C to 70°C
Accuracy is better than ±1 minute/month @ 25°C
Pinout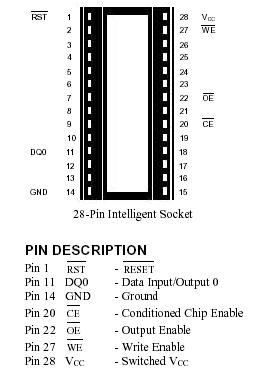 Description
The DS1216C SmartWatch/RAM is a 28pin, 600-mil wide DIP socket with a builtin CMOS watch function, a nonvolatile RAM controller circuit, and an embedded lithium energy source. DS1216C accepts either an 8K x 8 or a 32K x 8 JEDEC bytewide CMOS static RAM. When the socket is mated with a CMOS SRAM, DS1216C provides a complete solution to problems associated with memory volatility and uses a common energy source to maintain time and date. A key feature of the DS1216C is that the watch function remains transparent to the RAM.

See the DS1216B SmartWatch/RAM 16/64K data sheet for technical details.
Parameters:
Technical/Catalog Information
DS1216C
Vendor
Maxim Integrated Products
Category
Integrated Circuits (ICs)
Controller Type
Smartwatch RAM
Voltage - Supply
4.5 V ~ 5.5 V
Package / Case
28-DIP (600 mil)
Packaging
Tube
Operating Temperature
0°C ~ 70°C
Lead Free Status
Contains Lead
RoHS Status
RoHS Non-Compliant
Other Names
DS1216C
DS1216C