Date Format :
RTC Memory Size :
Packaging :
Supply Voltage - Max : 5.5 V
Maximum Operating Temperature : + 85 C
Minimum Operating Temperature : - 40 C
Time Format : Binary
RTC Bus Interface : Serial
Supply Voltage - Min : 4.5 V
Mounting Style : Through Hole
Package / Case : PDIP N
Function : Clock, Calendar, Elapsed Time Counter
Features:
Two 32bit counters keep track of real time and elapsed time
Counters keep track of seconds for over 125 years
Battery powered counter counts seconds from the time battery is attached until VBAT is less than 2.5 volts
VCC powered counter counts seconds while VCC is above 4.25 volts and retains the count in the absence of VCC under battery backup power
Clear function resets selected counter to 0
Read/Write serial port affords low pin count
Maximum current drain of less than 1 µA from VBAT pin when serial port is disabled
One byte protocol defines read/write, counter address and software clear function
8pin DIP or optional 8pin SOIC
Operating temperature range of 40°C to +85°C
Reduced performance operation down to VCC = 2.5V
Pinout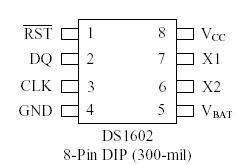 Specifications
Voltage on Any Pin Relative to Ground 0.3V to +7.0V
Operating Temperature 40°C to +85°C
Storage Temperature 55°C to +125°C
Soldering Temperature 260°C for 10 seconds
Description
The DS1602 is a real time clock/elapsed time counter designed to count seconds when VCC power is applied and continually count seconds under battery backup power with an additional counter regardless of the condition of VCC. The continuous counter can be used to derive time of day, week, month, and year by using a software algorithm. The VCC powered counter will automatically record the amount of time that VCC power is applied. This function is particularly useful in determining the operational time of equipment in which the DS1602 is used. Alternatively, this counter can also be used under software control to record real time events. Communication to and from the DS1602 takes place via a 3wire serial port. A 1-byte protocol selects read/ write functions, counter clear functions and oscillator trim. A low cost 32.768 kHz crystal attaches directly to the X1 and X2 pins. If battery powered-only operation is desired, the VBAT pin must be grounded and the VCC pin must be connected to the battery.