Transistor Polarity : N-Channel
Gate-Source Breakdown Voltage : +/- 20 V
Mounting Style : SMD/SMT
Packaging : Reel
Drain-Source Breakdown Voltage : 30 V
Maximum Operating Temperature : + 150 C
Configuration : Dual Dual Drain
Package / Case : SOIC-8 Narrow
Resistance Drain-Source RDS (on) : 0.016 Ohms
Continuous Drain Current : 6.3 A, 8.6 A
Features:
• Q2: Optimized to minimize conduction losses Includes SyncFET Schottky body diode
8.6A, 30V = 0.016Ω @ VGS = 10V R DS(on)
= 0.021Ω @ VGS = 4.5V R DS(on)

• Q1: Optimized for low switching losses Low Gate Charge ( 8.5 nC typical)
6.3A, 30V = 0.028Ω @ VGS = 10V RDS(on)
= 0.035Ω @ VGS = 4.5V RDS(on)

Pinout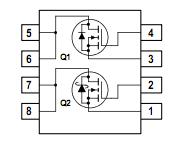 Specifications
Symbol
Parameter
Q2
Q1
Units
VDSS
Drain-Source Voltage
30
30
V
VGSS
Gate-Source Voltage
±20
±16
V
ID
Drain Current - Continuous (Note 1a)
- Pulsed
8.6
6.3
A
30
20
PD
Power Dissipation for Dual Operation
2
W

Power Dissipation for Single Operation
(Note 1a)
(Note 1b)
(Note 1c)

1.6
1
0.9
TJ, TSTG
Operating and Storage Junction Temperature Range
-55 to +150
°C
Description
The FDS6982S is designed to replace two single SO-8 MOSFETs and Schottky diode in synchronous DC:DC power supplies that provide various peripheral voltages for notebook computers and other battery powered electronic devices. FDS6982S contains two unique 30V, N-channel, logic level, PowerTrench MOSFETs designed to maximize power conversion efficiency.
The FDS6982S high-side switch (Q1) is designed with specific emphasis on reducing switching losses while the low- side switch (Q2) is optimized to reduce conduction losses. Q2 also includes an integrated Schottky diode using Fairchild's monolithic SyncFET technology.
Parameters:
Technical/Catalog Information
FDS6982S
Vendor
Fairchild Semiconductor
Category
Discrete Semiconductor Products
Mounting Type
Surface Mount
FET Polarity
2 N-Channel (Dual)
Drain to Source Voltage (Vdss)
30V
Current - Continuous Drain (Id) @ 25° C
6.3A, 8.6A
Rds On (Max) @ Id, Vgs
28 mOhm @ 6.3A, 10V
Input Capacitance (Ciss) @ Vds
2040pF @ 10V
Power - Max
900mW
Packaging
Tape & Reel (TR)
Gate Charge (Qg) @ Vgs
12nC @ 5V
Package / Case
SO-8
FET Feature
Logic Level Gate
Lead Free Status
Lead Free
RoHS Status
RoHS Compliant
Other Names
FDS6982S
FDS6982S