Features:
· Process Technology: TFT
· Organization: 512Kx8
· Power Supply Voltage: 4.5~5.5V
· Low Data Retention Voltage: 2V(Min)
· Three state output and TTL Compatible
· Package Type: 32-DIP-600, 32-SOP-525 32-TSOP2-400F/R
Pinout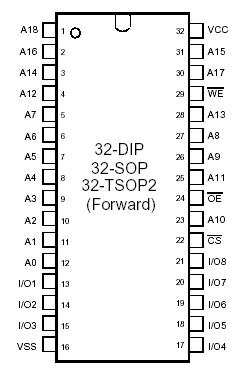 Specifications
Item
Symbol
Ratings
Unit
Remark
Voltage on any pin relative to Vss
VIN,VOUT
-0.5 to 7.0
V
-
Voltage on Vcc supply relative to Vss
VCC
-0.5 to 7.0
V
-
Power Dissipation
PD
1.0
W
-
Storage temperature
TSTG
-65 to 150
°C
-
Operating Temperature
TA
0 to 70
°C
K6T4008C1B-L/-B
-40 to 85
°C
K6T4008C1B-P/-F
Soldering temperature and time
TSOLDER
260°C, 10sec(Lead Only)
-
-
1. Stresses greater than those listed under "Absolute Maximum Ratings" may cause permanent damage to the device. Functional operation should be restricted to recommended operating condition. Exposure to absolute maximum rating conditions for extended periods may affect reliability.
Description
The K6T4008C1B families are fabricated by SAMSUNG¢s advanced CMOS process technology. The families support various operating temperature ranges and various package types for user flexibility of system design. The family also support low data retention voltage for battery back-up operation with low data retention current.