Features:
Average temperature coefficient 50 ppm/˚C
Temperature compensated for operation over the full temperature range
Programmable output voltage
Fast turn-on response
Low output noise
LM431 in micro SMD package
See AN-1112 for micro SMD considerations
Pinout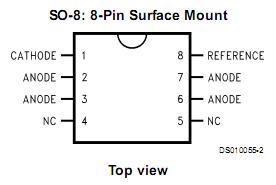 Specifications
Initial Accuracy (+/-) Max
1 %
Reference Voltage
Adjustable
Tempco, max (ppm/C)
54 ppm
Operating Current
1 mA
Output Current
100 mA
Reference with respect to
Anode (low side)
Temperature Min
-40 deg C
Temperature Max
85 deg C
View Using Catalog
Storage Temperature Range −65˚C to +150˚C
Operating Temperature Range
Industrial (LM431xI) −40˚C to +85˚C
Commercial (LM431xC) 0˚C to +70˚C
Soldering Information
Infrared or Convection (20 sec.)235˚C
Wave Soldering (10 sec.) 260˚C (lead temp.)
Cathode Voltage37V
Continuous Cathode Current−10 mA to +150 mA
Description
The LM431 is a 3-terminal adjustable shunt regulator with guaranteed temperature stability over the entire temperature range of operation. It is now available in a chip sized package (4-Bump micro SMD) using National's micro SMD package technology. The output voltage may be set at any level greater than 2.5V (VREF) up to 36V merely by selecting two external resistors that act as a voltage divided network. Due to the sharp turn-on characteristics this device is an excellent replacement for many zener diode applications.