Features:
3.3 Volt Operation (5V Tolerant)
PC99 and ACPI 1.0b Compliant
Programmable Wakeup Event Interface (nIO_PME Pin)
SMI Support (nIO_SMI Pin) GPIOs (29)
Two IRQ Input Pins XNOR Chain
Intelligent Auto Power Management
2.88MB Super I/O Floppy Disk Controller
- Licensed CMOS 765B Floppy Disk Controller
- Software and Register Compatible with SMSC's Proprietary 82077AA Compatible Core
- Supports One Floppy Drive Directly
- Configurable Open Drain/Push-Pull Output Drivers
- Supports Vertical Recording Format
- 16-Byte Data FIFO
- 100% IBM Compatibility
- Detects All Overrun and Underrun Conditions
- Sophisticated Power Control Circuitry (PCC) Including Multiple Powerdown Modes for Reduced Power Consumption
- DMA Enable Logic
- Data Rate and Drive Control Registers
- Swap Drives A and B
- Non-Burst Mode DMA Option
- 48 Base I/O Address, 15 IRQ and 3 DMA Options
- Forceable Write Protect and Disk Change Controls
LPC Bus Host Interface
- Multiplexed Command, Address and Data Bus
- 8-Bit I/O Transfers
- 8-Bit DMA Transfers
- 16-Bit Address Qualification
Floppy Disk Available on Parallel Port Pins (ACPI Compliant)
Enhanced Digital Data Separator
- 2 Mbps, 1 Mbps, 500 Kbps, 300 Kbps, 250 Kbps Data Rates
- Programmable Precompensation Modes Serial Ports
- Two Full Function
Serial Ports
- High Speed NS16C550 Compatible UARTs with Send/Receive 16-Byte FIFOs
- Supports 230k and 460k Baud
- Programmable Baud Rate Generator
- Modem Control Circuitry
Infrared Communications Controller
- IrDA v1.2 (4Mbps), HPSIR, ASKIR, Consumer IR Support
- 2 IR Ports
- 96 Base I/O Address, 15 IRQ Options and 3 DMA Options
Multi-Mode Parallel Port with ChiProtect
- Standard Mode IBM PC/XT, PC/AT, and PS/2 Compatible Bidirectional Parallel Port
- Enhanced Parallel Port (EPP) Compatible - EPP 1.7 and EPP 1.9 (IEEE 1284 Compliant)
- IEEE 1284 Compliant Enhanced Capabilities Port (ECP)
- ChiProtect Circuitry for Protection Against Damage Due to Printer Power- On
- 192 Base I/O Address, 15 IRQ and 3 DMA Options
- Serial IRQ Interface Compatible with Serialized IRQ Support for PCI Systems
- PCI nCLKRUN Support
- Power Management Event (nIO_PME) Interface Pin
100 Pin TQFP Package and STQFP Package
Pinout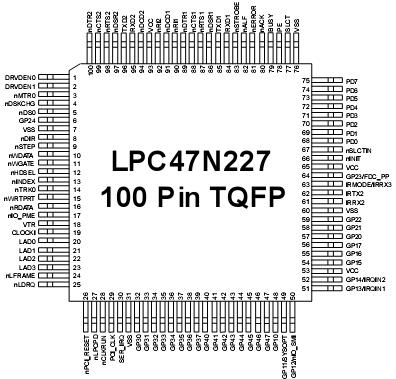 Description
The SMSC LPC47N227 is a 3.3V PC 99 and ACPI 1.0b compliant Super I/O Controller. The LPC47N227 implements the LPC interface, a pin reduced ISA interface which provides the same or better performance as the ISA/X-bus with a substantial savings in pins used. The part also includes 29 GPIO pins.
The LPC47N227 incorporates SMSC's true CMOS 765B floppy disk controller, advanced digital data separator, 16-byte data FIFO, two 16C550 compatible UARTs, one Multi-Mode parallel port with ChiProtect circuitry plus EPP and ECP support and one floppy direct drive support. The LPC47N227 does not require any external filter components, is easy to use and offers lower system cost and reduced board area. The LPC47N227 is software and register compatible with SMSC's proprietary 82077AA core.