Features:
• Few external parts
• Detecting Voltage ...4.25V typ. (4.05V to 4.45V)
• Low threshold operating voltage (Supply voltage to keep
low-state at low supply voltage) .0.6V(TYP.) at R
L
=22k
• Wide supply voltage range .... 2 to 17V
• Sudden change in power supply has minimal effect on the ICs
• Wide application range
• Extra small package (SOT-25)
(M51943ASL:3pin SIP,M51943AML:3pin SOP, M51943AL:5pin SIPalready Mass production)
Application
• Reset pulse generation for almost all logic circuits
• Battery checking, level detecting, waveform shaping circuits
• Delayed waveform generator
• Switching circuit to a back-up power supply
• DC/DC converter
• Over voltage protection circuit
Pinout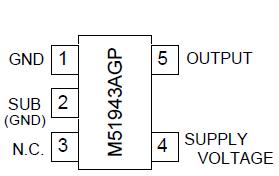 Specifications
Symbol
Parameter
Test condition

Ratings

Unit

ICC
Supply Voltage

18

V

Isink
Output Sink Current

6

mA

VO
Output Voltage
Output with constant current load

Vcc

V

Pd
Power Dissipation
5pin SOP(SOT-25)

200

mW

K
Thermal Derating
Ta 25
5pin SOP

2

mW/

Topr
Operating Temperature

-30 to +85

Tstg
Storage Temperature

-40 to +125
Description
M51943A are semiconductor integrated circuits designed for detecting supply voltage and resetting all types of logic circuits such as CPUs.

They find extensive applications,including battery checking circuits, level detecting circuit and waveform shaping circuit.