Features:
• 80C51 Central Processing Unit
• On-chip Flash Program Memory with In-System Programming
(ISP) and In-Application Programming (IAP) capability
• Boot ROM contains low level Flash programming routines for
downloading via the UART
• Can be programmed by the end-user application (IAP)
• 6 clocks per machine cycle operation (standard)
• 12 clocks per machine cycle operation (optional)
• Speed up to 20 MHz with 6 clock cycles per machine cycle
(40 MHz equivalent performance); up to 33 MHz with 12 clocks
per machine cycle
• Fully static operation
• RAM expandable externally to 64 kB
• 4 level priority interrupt
• 8 interrupt sources
• Four 8-bit I/O ports
• Full-duplex enhanced UART
Framing error detection
Automatic address recognition
• Power control modes
Clock can be stopped and resumed
Idle mode
Power down mode
• Programmable clock out
• Second DPTR register
• Asynchronous port reset
• Low EMI (inhibit ALE)
• Programmable Counter Array (PCA)
PWM
Capture/compare
Pinout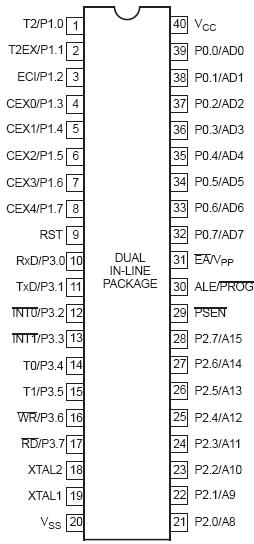 Specifications
| | | |
| --- | --- | --- |
| PARAMETER | RATING | UNIT |
| Operating temperature under bias | 0 to +70 or 40 to +85 | °C |
| Storage temperature range | -65 to +15 | °C |
| Voltage on EA/VPP pin to VSS | 0 to + 13.0 | V |
| Voltage on any other pin to VSS | 0.5 to +6.5 | V |
| Maximum IOL per I/O pin | 15 | mA |
| Power dissipation (based on package heat transfer, not device power consumption) | 1.5 | A |
NOTES:
1. Stresses above those listed under Absolute Maximum Ratings may cause permanent damage to the device. This is a stress rating only and
functional operation of the device at these or any conditions other than those described in the AC and DC Electrical Characteristics section
of this specification is not implied.
2. This product includes circuitry specifically designed for the protection of its internal devices from the damaging effects of excessive static
charge. Nonetheless, it is suggested that conventional precautions be taken to avoid applying greater than the rated maximum.
3. Parameters are valid over operating temperature range unless otherwise specified. All voltages are with respect to VSS unless otherwise noted.
4. Programming is guaranteed from 0°C to Tmax for all devices.
Description
The 89C51RB2/RC2/RD2 device contains a non-volatile 16kB/32kB/64kB Flash program memory that is both parallel programmable and serial In-System and In-Application Programmable. In-System Programming (ISP) allows the user to download new code while the microcontroller sits in the application. In-Application Programming (IAP) means that the microcontroller fetches new program code and reprograms itself while in the system. 89C51RB2/RC2/RD2 allows for remote programming over a modem link. A default serial loader (boot loader) program in ROM allows serial In-System programming of the Flash memory via the UART without the need for a loader in the Flash code. For In-Application Programming, the user program erases and reprograms the Flash memory by use of standard routines contained in ROM. 89C51RB2/RC2/RD2 executes one machine cycle in 6 clock cycles, hence providing twice the speed of a conventional 80C51. An OTP configuration bit lets the user select conventional 12 clock timing if desired.

89C51RB2/RC2/RD2 is a Single-Chip 8-Bit Microcontroller manufactured in advanced CMOS process and is a derivative of the 80C51 microcontroller family. The instruction set is 100% compatible with the 80C51 instruction set.

The 89C51RB2/RC2/RD2 also has four 8-bit I/O ports, three 16-bit timer/event counters, a multi-source, four-priority-level, nested interrupt structure, an enhanced UART and on-chip oscillator and timing circuits.

The added features of the P89C51RB2/RC2/RD2 makes it a powerful microcontroller for applications that require pulse width modulation, high-speed I/O and up/down counting capabilities such as motor control.