Features:
- 10 output, low skew signal buffer
- Guaranteed low skew:
· 0.7ns output skew (same bank)
· 0.9ns output skew (different bank)
· 1ns part-to-part skew
- 25W on-chip resistors available for low noise
- Input hysteresis for better noise margin
- Monitor output
- Undershoot clamp diodes on all inputs
- Std. and A speed grades
- Available in QSOP and SOIC packages
Pinout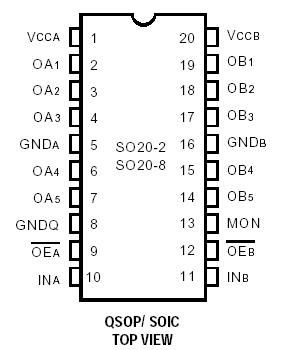 Specifications
Rating

Symbol

Max

unit

Supply Voltage Range

V CC1, VCC2

0.5 to +4.6

V

Input Voltage Range

VI (2)

0.5 to +5.5

V

Voltage range applied to any
output in the high or low state

VO(2)

0.5 to VDD + 0.5

V

Input clamp current


IIK (VI < 0)

50

mA

Terminal Voltage with Respect
to GND (inputs VIH 2.5, VIL 2.5)

IOK
(VO < 0 or VO > VDD)

-50

mA

Continuous Output Current

IRES

±100

mA

Continuous Current

VDD or GND

mA

Junction Temperature

TSTG

150
°C

NOTES:
1. Stresses greater than those listed under ABSOLUTE MAXIMUM RATINGS may cause permanent damage to the device. This is a stress rating only and functional operation of the device at these or any other conditions above those indicated in the operational sectionsof this specification is not implied. Exposure to absolute maximum rating conditions for extended periods may affect reliability.
2. Vcc Terminals.
3. All terminals except Vcc.
Description
The QS5280AT clock buffer/driver circuits can be used for clock buffering schemes where low skew is a key parameter. The QS5280AT offers two banks of five non-inverting outputs. This device provides low propagation delay buffering with on-chip skew of 0.7ns for same-transition, same-bank signals.

The QS5280AT has on-chip series termination resistors for lower noise clock signals.

The QS5280AT series resistor version is recommended for driving unterminated lines with capacitive loading and other noise sensitive clock distribution circuits. These clock buffer products are designed for use in high-performance workstations and in embedded and personal computing systems. Several devices can be used in parallel or scattered throughout a system for guaranteed low skew, system-wide clock distribution networks.

The QS5280AT is characterized for operation at -40°C to +85°C.