Features:
` SmartVoltage Technology
- Smart 3 Flash: 2.7 V or 3.3 V VCC and 2.7 V, 3.3 V or 12 V V
PP
` High-Performance
- 120 ns Read Access Time
` Enhanced Data Protection Features
- Absolute Protection with V
PP
= GND
- Flexible Block Locking
- Block Write Lockout during Power Transitions
` Enhanced Automated Suspend Options
- Program Suspend to Read
- Block Erase Suspend to Program
- Block Erase Suspend to Read
` Industry-Standard Packaging
-40-Lead TSOP, 44-Lead PSOP and 40 Bump mBGA* CSP
` High-Density 64-Kbyte Symmetrical Erase Block Architecture
- 4 Mbit: Eight Blocks
- 8 Mbit: Sixteen Blocks
- 16 Mbit: Thirty-Two Blocks
` Extended Cycling Capability
- 100,000 Block Erase Cycles
` Low Power Management
- Deep Power-Down Mode
- Automatic Power Savings Mode Decreases ICC in Static Mode
` Automated Program and Block Erase
- Command User Interface
- Status Register
` SRAM-Compatible Write Interface
` ETOX™ V Nonvolatile Flash Technology
Pinout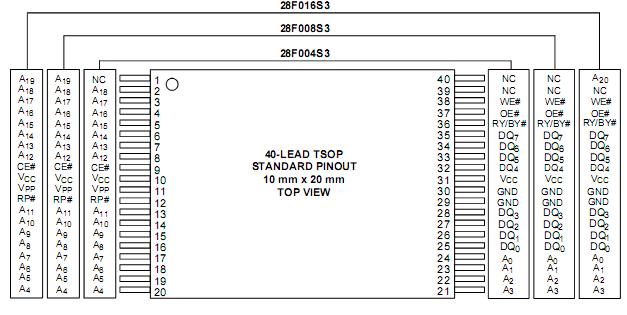 Specifications
Temperature under Bias .............. 10 to +80
Storage Temperature.................. 65 to +125
Voltage On Any Pin
(except V
PP
, and RP#)............ ..2.0 V to +7.0 V(2)
V
PP
Voltage ..........................2.0 V to +14.0 V(1,2)
RP# Voltage ..................... 2.0 V to +14.0 V(1,2,4)
Output Short Circuit Current.....................100 mA(3)
NOTES:
1. All specified voltages are with respect to GND. Minimum DC voltage is 0.5 V on input/output pins and 0.2 V on V
CC
, RP#, and V
PP
pins. During transitions, this level may undershoot to 2.0 V for periods <20 ns. Maximum DC voltage on
input/output pins and V
CC
is V
CC
+0.5 V which, during transitions, may overshoot to V
CC
+2.0 V for periods <20 ns.
2. Maximum DC voltage on VPP and RP# may overshoot to +14.0 V for periods <20 ns.
3. Output shorted for no more than one second. No more than one output shorted at a time.
4. RP# voltage is normally at VIL or VIH. Connection to supply of VHH is allowed for a maximum cumulative period of 80 hours.
Description
`Intel's byte-wide Smart 3 FlashFile™ memory family TE28F004S3-150 renders a variety of density offerings in the same package. The 4-, 8-, and 16-Mbit byte-wide FlashFile memories provide high-density, low-cost, nonvolatile, read/write storage solutions for a wide range of applications. Their symmetrically-blocked architecture, flexible voltage, and extended cycling provide highly flexible components suitable for resident flash arrays, SIMMs, and memory cards. Enhanced suspend capabilities provide an ideal solution for code or data storage applications. For secure code storage applications, such as networking, where code is either directly executed out of flash or downloaded to DRAM, the 4-, 8-, and 16-Mbit FlashFile memories offer three levels of protection: absolute protection with VPP at GND, selective hardware block locking, or flexible software block locking. These alternatives give designers ultimate control of their code security needs.

`This family of products TE28F004S3-150 is manufactured on Intel's 0.4 mm ETOX™ V process technology. They come in industry-standard packages: the 40-lead TSOP, ideal for board-constrained applications, and the rugged 44-lead PSOP. Based on the 28F008SA architecture, the byte-wide Smart 3 FlashFile memory family enables quick and easy upgrades for designs that demand state-of-the-art technology.