Features:
` Flexible SmartVoltage Technology
-2.7 V3.6 V Read/Program/Erase
-12 V VPP Fast Production Programming
` 2.7 V or 1.65 V I/O Option
-Reduces Overall System Power
` High Performance
-2.7 V3.6 V: 70 ns Max Access Time
` Optimized Block Sizes
-Eight 8-KB Blocks for Data,Top or Bottom Locations
-Up to One Hundred Twenty-Seven 64- KB Blocks for Code
` Block Locking
-V
CC
-Level Control through WP#
` Low Power Consumption
-9 mA Typical Read Current
` Absolute Hardware-Protection
-V
PP
= GND Option
-V
CC
Lockout Voltage
` Extended Temperature Operation
-40 to +85
` Automated Program and Block Erase
-Status Registers
` Intel® Flash Data Integrator Software
-Flash Memory Manager
-System Interrupt Manager
-Supports Parameter Storage, Streaming Data (e.g., Voice)
` Extended Cycling Capability
-Minimum 100,000 Block Erase Cycles Guaranteed
` Automatic Power Savings Feature
-Typical ICCS after Bus Inactivity
` Standard Surface Mount Packaging
-48-Ball CSP Packages
-40- and 48-Lead TSOP Packages
` Density and Footprint Upgradeable for common package
-4-, 8-, 16-, 32- and 64-Mbit Densities
` ETOX™ VII (0.18 m) Flash Technology
-28F160/320/640B3xC
-4-, 8-, 16-, and 32-Mbit also exist on ETOX™ V (0.4) and/or ETOX ™ VI (0.25) Flash Technology
` x8 not recommended for new designs
` 4-Mbit density not recommended for new designs
Pinout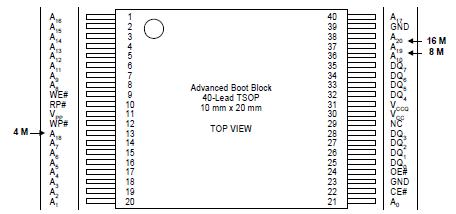 Description
The TE28F008B3BA110 3 Volt Advanced Boot Block flash memory, manufactured on Intel's latest 0.18 mm technology, represents a feature-rich solution at overall lower system cost. The 3 Volt Advanced Boot Block flash memory products in x16 will be available in 48-lead TSOP and 48-ball CSP packages. The x8 option of this product family TE28F008B3BA110 will only be available in 40-lead TSOP and 48- ball BGA* packages. Additional information on this product family can be obtained by accessing Intel's website at: http://www.intel.com/design/flash.