Features:
At VS = 5V, Typ unless noted
Greater than Rail-to-Rail Input CMVR −0.25V to 5.25V
Rail-to-Rail Output Swing 0.01V to 4.99V
Wide Gain-Bandwidth: 75 MHz @ 100 kHz
Slew Rate:
Small signal 5V/s
Large signal 45V/s
Low supply current 1.4mA/amplifier
Wide supply range 2.7V to 24V
Fast settling time of 1.1s for 2V step (to 0.01%)
PSRR 91 dB
CMRR 84 dB
Application
Portable high speed instrumentation
Signal conditioning amplifier/ADC buffers
Barcode scanners
Pinout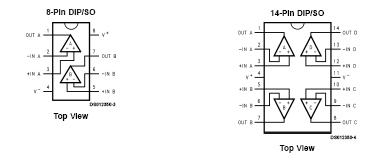 Specifications
Supply Min
2.7 Volt
Supply Max
24 Volt
Gain Bandwidth
75 MHz
Channels
4 Channels
Supply Current Per Channel
1.4 mA
PowerWise Rating 2
1.8 uA/MHz
Slew Rate
30 Volts/usec
Offset Voltage max, 25C
5 mV
Max Input Bias Current
1500 nA
Input OutputType
R-R In and Out
Output Current
6.2 mA
Voltage Noise
9 nV/root(Hz)
Shut down
No
Special Features
AvCl>2
Temperature Min
0 deg C
Temperature Max
70 deg C
Function
Op Amp
PowerWise
Yes
View Using Catalog
If Military/Aerospace specified devices are required, please contact the National Semiconductor Sales Office/ Distributors for availability and specifications.
ESD Tolerance (Note 2) 2500V
Differential Input Voltage 15V
Voltage at Input/OutputPin (V+) + 0.3V, (V−) −0.3V
Supply Voltage (V+ − V−) 35V
Current at Input Pin ±10mA
Current at Output Pin(Note 3) ±25mA
Current at Power Supply Pin 50mA
Lead Temperature(soldering, 10 sec) 260°C
Storage Temperature Range -65°C to +150°C
Junction Temperature (Note 4) 150°C
Note 1: Absolute Maximum Ratings indicate limits beyond which damage to the device may occur. Operating Ratings indicate conditions for which the device is intended to be functional, but specific performance is not guaranteed. For guaranteed specifications and the test conditions, see the Electrical Characteristics.
Note 2: Human body model, 1.5kW in series with 100pF.
Note 3: Applies to both single-supply and split-supply operation. Continuous short circuit operation at elevated ambient temperature can result in exceeding the maximum allowed junction temperature of 150°C.
Note 4: The maximum power dissipation is a function of T
J(max)
, JA, and TA. The maximum allowable power dissipation at any ambient temperature is PD = (T
J(max)-
T
A
)/JA. All numbers apply for packages soldered directly into a PC board.
Description
Using patented circuit topologies, the LM6152/LM6154 provides new levels of speed vs. power performance in applications where low voltage supplies or power limitations previously made compromise necessary. With only 1.4 mA/amplifier supply current, the 75 MHz gain bandwidth of this device supports new portable applications where higher power devices unacceptably drain battery life. The slew rate of the devices increases with increasing input differential voltage, thus allowing the device to handle capacitive loads while maintaining large signal amplitude.
The LM6152/LM6154 can be driven by voltages that exceed both power supply rails, thus eliminating concerns about exceeding the common-mode voltage range. The rail-to-rail output swing capability provides the maximum possible dynamic range at the output. This is particularly important when operating on low supply voltages.
Operating on supplies from 2.7V to over 24V, the LM6152/LM6154 is excellent for a very wide range of applications, from battery operated systems with large bandwidth requirements to high speed instrumentation.
Design Tools
---
| | | | | | |
| --- | --- | --- | --- | --- | --- |
| Title | Size in Kbytes | Date | | | |
| Amplifiers Selection Guide software for Windows | 8 Kbytes | 6-Mar-2007 | View | | |

If you have trouble printing or viewing PDF file(s), see Printing Problems.


Application Notes
---
| | | | |
| --- | --- | --- | --- |
| Title | Size in Kbytes | Date | |
| AN-1515: Application Note 1515 A Comprehensive Study of the Howland Current Pump | 227 Kbytes | 29-Jan-08 | Download |

If you have trouble printing or viewing PDF file(s), see Printing Problems.