Features:
Compliance with SAE J1850 standards
Built-in function detecting bus-line abnormality
Application
LAN transceivers in general and other communication transceivers (The M59330P having the same function is available as a vehicleloaded LAN transceiver).
Pinout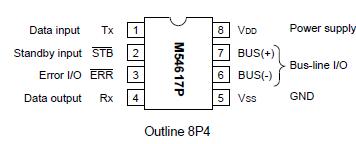 Specifications
Symbol

Parameter

Conditions

Ratings

Unit

Min.

Typ.

Max.

VDD

Supply voltage

-0.3

6.5

V

VI

Input voltage

-0.3

VDD+0.3

V

VO

Output voltage

-0.3

VDD+0.3

V

IO

Driver output current
BUS(+)

50

mA

BUS(-)

-50

Pmax

Allowable power dissipation

200

mW

Tstg

Storage temperature

-50

125

°C
Note: All voltages shall be based on VSS pin of the circuit, the max. and min. values be indicated in the absolute values, and the directions of the current be positive when flowing into the circuit and negative ("-" symbol) when flowing out of the circuit.
Description
The M54617P is an integrated circuit for two-wire system LAN transceivers in compliance with J1850.

M54617P has a built-in function detecting bus-line abnormality, and allows ERR signal to turn to "L" in case of abnormality. In addition, the selector permits the output of normal bus signal.

Turning the standby signal to "L" provides a low current dissipation status, when both BUS(+) and BUS(-) of the driver are turned OFF. Further, inputting "H" level to ERR pin when in the standby mode allows error output to be reset.