Features:
· Low Power Low Voltage (3.6 to 5.0 V) Operation
· Power Down Modes
· Differential Signals to Minimise Cross-talk
· Auxiliary Oscillator with Transmit Up-converter
· Prescaler for Main Synthesiser
· Part of the ACE Integrated Cellular Phone Chipset
· Small Outline 28 pin Package
Application
· AMPS and TACS Cellular Telephone
· Two-Way Radio Systems
Pinout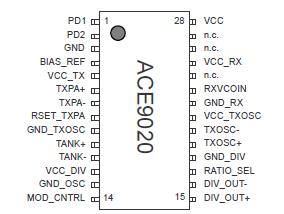 Specifications
Supply voltage ...........................................6V
Storage temperature...... - 65°C to + 150°C
Operating temperature .....- 30°C to + 85°C
Voltage at any pin ............-0.3V to V
CC
+0.3V
Static Sensitivity (HBM) min ....................500V
Description
ACE9020 is a VHF oscillator, up-converter and prescaler.It is used in an offset modulated transmit architecture where a UHF synthesiser makes the channel selection and a second synthesiser generates a fixed transmit offset.

A VCO signal drives a buffer in ACE9020 to feed an onchip prescaler and transmit up-converter. The prescaler is a dual two-modulus divider and drives the main synthesiser input of the ACE9030. The SSB up-converter suppresses the unwanted transmit sideband.

The VHF oscillator ACE9020 is buffered to drive the auxiliary synthesiser input of the ACE9030 and is locked to the offset frequency. This frequency is modulated by varying the resonant frequency of the external tank circuit. Both this oscillator and the UHF VCO drive the up-converting mixer to generate the transmit signal.

Various power saving modes for battery economy are included. These allow the transmit sections to be shut down during stand-by and the whole chip can be shut down during sleep mode. The circuit techniques used have been chosen to minimise external components and at the same time give very high performance.