Features:
· Low Power, Low Voltage (3·6 to 5·0 V) Operation
· 3.0V Memory Interface
· Power Down and Emulation Modes
· 6303R-type Microcontroller
· AMPS or TACS Modem
· Watchdog and Power Control Logic
· SAT Detection, Generation and Loopback
· 6K bytes RAM
· Interface to FLASH and EEPROM Memories
· 512 byte ROM Boot Block
· I/O Ports for Keyboard Scanning
· I
2
C Controller
· Small Outline 100-pin package
Application
· AMPS and ETACS Cellular Telephones
· Two-way Radio Systems
Pinout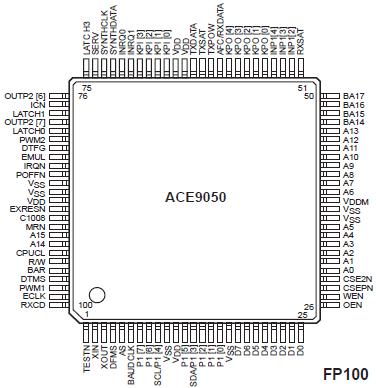 Specifications
Supply voltages V
DD
, V
DDM
.......... -0.5V to +6V
Storage temperature..........-55°C to +150°C
Operating temperature.........-40°C to +85°C
Voltage on any pin.......V
SS
-0.5V to V
DD
+0.5V
Description
The ACE9050 provides the control and interface functions needed for AMPS or TACS analog cellular handsets. The device has been designed using Mitel Semiconductor submicron CMOS technology for low power and high performance.

The ACE9050 contains an embedded microcontroller and peripheral functions. The controller is of the 6303 type with a
Serial Communication Interface, Timer, ROM and RAM. The peripheral functions are: Data Modem, SAT Management, Serial Chip Interfaces, I2C Interface, two Pulse Width Modulators, IFC Counter, Tone generator, I/O ports, Watchdog and Crystal Oscillator.

Several power down modes are incorporated in the device as is a processor emulation mode for software and system
development.

An index to this data sheet is given on pages 49 and 50.