Features:
· Low Power and Low Voltage (3·6 to 5·0 V) Operation
· Power Down Modes
· Direct Connections to Microphone and Earpiece
· Compander with wide operating range:
Compressor 74 db typ., Expander 36 dB typ.
· SAT Bandpass and Data Lowpass Filters
· Handsfree Operation Supported
· DTMF Generator
· Serial Bus Controlled Gains and Filter Responses
· Part of the ACE Integrated Cellular Phone Chipset
· TQFP 64 Pin 10X10 mm or 7X7 mm Packages
Application
ACE9040 is part of the following chipset:
·ACE9020 Receiver and Transmitter Interface
·ACE9030 Radio Interface and Twin Synthesiser
·ACE9050 System Controller and Data Modem
Pinout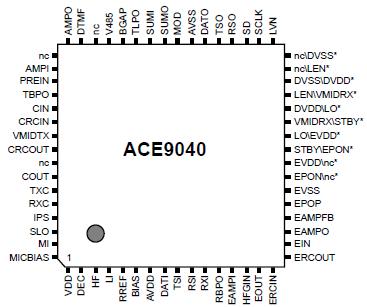 Specifications
Supply voltage ............................................6 V
Storage temperature ......- 55 °C to + 150 °C
Operating temperature .....- 40 °C to + 85 °C
Voltage at any pin ..........- 0.3 V to V
DD
+ 0.3 V
Description
ACE9040 provides all the speech signal processing and data/SAT tone filtering needed for AMPS or TACS analog cellular telephones.

Transmit voice channel functions comprise a microphone amplifier, soft limiter, bandpass filter, compressor, hard limiter, lowpass filter and a gain controlled amplifier to set deviation level. Additional transmit circuits include a DTMF generator, data and SAT filters, deviation setting amplifiers for data/ST and SAT and a modulation combiner.

ACE9040's receive path comprises a bandpass filter,expander, volume control and power amplifiers to directly drive an earpiece or handsfree transducer.

Gain settings, mute switches and filter characteristics are programmed via a three wire serial interface.To implement a handsfree function, both transmit and receive paths have rectifiers for signal amplitude monitoring via an external pin and signal path attenuators controlled via the serial interface.

ACE9040 combines minimum power consumption with low external component count. Standby modes greatly reduce supply current and extend battery charge intervals.