Drain-Source Breakdown Voltage : 25 V
Mounting Style : SMD/SMT
Packaging : Reel
Maximum Operating Temperature : + 150 C
Configuration : Dual
Gate-Source Breakdown Voltage : +/- 8 V
Transistor Polarity : N and P-Channel
Package / Case : SC-70-6
Resistance Drain-Source RDS (on) : 4 Ohms
Continuous Drain Current : 0.22 A
Features:
·N-Ch 0.22 A, 25 V, R
DS(ON)
= 4.0 W @ V
GS
= 4.5 V, R
DS(ON)
= 5.0 W @ V
GS
= 2.7 V.
·P-Ch -0.14 A, -25V, R
DS(ON)
= 10 W @ V
GS
= -4.5V, R
DS(ON)
= 13 W @ V
GS
= -2.7V.
·Very small package outline SC70-6.
·Very low level gate drive requirements allowing direct operation in 3 V circuits (VGS(th) < 1.5 V).
·Gate-Source Zener for ESD ruggedness (>6kV Human Body Model).
Pinout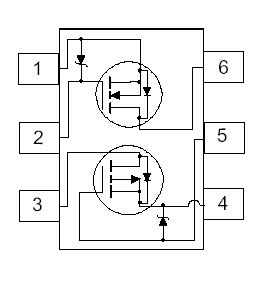 Specifications
Symbol

Parameter

N-Channel

P-Channel

Units

VDSS
VGSS

Drain-Source Voltage
Gate-Source Voltage

25
8
0.22
0.65

-25
-8
-0.14
-0.4

V
V
A

W

°C
kV


ID

Drain Current - Continuous - Pulsed

PD

Power Dissipation for Single Operation
(Note 1)

0.3
-55 to 150
6

TJ,TSTG
ESD
Operating and Storage Temperature Ranger
Electrostatic Discharge Rating MIL-STD-883D
Human Body Model (100pf / 1500 Ohm)
Description
These FDG6320C dual N & P-Channel logic level enhancement mode field effect transistors are produced using Fairchild's proprietary, high cell density, DMOS technology. This very high density process is especially tailored to minimize on-state resistance. This device FDG6320C has been designed especially for low voltage applications as a replacement for bipolar digital transistors and small signal MOSFETS. Since bias resistors are not required, this dual digital FET can replace several different digital transistors, with different bias resistor values.
Parameters:
Technical/Catalog Information
FDG6320C
Vendor
Fairchild Semiconductor
Category
Discrete Semiconductor Products
Mounting Type
Surface Mount
FET Polarity
N and P-Channel
Drain to Source Voltage (Vdss)
25V
Current - Continuous Drain (Id) @ 25° C
220mA, 140mA
Rds On (Max) @ Id, Vgs
4 Ohm @ 220mA, 4.5V
Input Capacitance (Ciss) @ Vds
9.5pF @ 10V
Power - Max
300mW
Packaging
Tape & Reel (TR)
Gate Charge (Qg) @ Vgs
0.4nC @ 4.5V
Package / Case
SC-70-6, SC-88, SOT-323-6, SOT-363
FET Feature
Logic Level Gate
Lead Free Status
Lead Free
RoHS Status
RoHS Compliant
Other Names
FDG6320C
FDG6320C